---
REMINDER: MASKS ARE REQUIRED

INSIDE THE BUILDING.  THIS INCLUDES WHILE

PLAYERS ARE GETTING SKATES ON.

THIS IS APPLICABLE TO ALL CAMPS AND GROUPS.







GROUP 1: 2011-2009


HAS BEEN CANCELLED.



Group 2 2008-2006


All players must arrive



fully dressed


(Skates included if possible)



All players will leave


the rink


Fully dressed within


5 minutes of the end of


their ice time.

 
Switzerland

Slovakia

Ice time: 5:00-5:30pm
Ice Time: 5:40-6:10pm

Brenden Barrett

Emily Anthon

Owen Benedict

Cade Burcalow

Casey Coopman

Trevor Day

Aly Fulton

Wyatt Lubben

Bode Hermanson

Jack Nehls

Drake Jonas

Paige Nowinski

Teddy Loeffelholz

Owen Porter

Jackson Rentmeister

Thomas Sarnow

Nicholas Rentmeister

Harrison Stokes

Logan Sorg - G

Heuer Stutz - G

Czech Republic

Belarus

Ice Time: 6:20-6:50pm
Ice Time: 7:00-7:30pm

Peter Berg

Michael Cahalane

Carter Bodensteiner

Gavin Goetsch

Leo Carroll

Wyatt Jost

Kaleb Chetwood

William Kelly

Bryton Clark

Nicholas McPherson

Michael Martinelli

Brock Robbins

Tagg McKelvey

Kaden Ruedebusch

Carter Renneberg

Gabe Samuelson

Sofia Martinelli - G

Masen Schmidt

 

Theran Schmidle - G

Belgium

Italy
Ice Time: 7:40-8:10pm
Ice Time: 8:20-8:50pm

Grace Allison

Logan Alton

 

Abby Hollfelder

Spencer Chrisinger

Jean-Luc Idzi

Tristan Edgerton

Douglas Jolicoeur

Christopher Henry

Adrian Millin

Monroe Jakacki

Liesel Rettig

Colin Murphy

Owen Schramm

Noah Nadler

Austin Smith

Jake Olday

Noah Verhelst

Bodie Thompson

Alex Griebe - G

Rudolph - G
---


A Message from Our General Manager

and Board of Directors:


UPDATED 5/28/20
To attempt to keep customers and staff healthy and avoid exposure

to the COVID-19 virus, The Ice Pond at Waunakee will

open slowly on Monday June 1st. Please read our

Guidelines to Reopening



If you have questions or concerns, please contact the rink

at (608) 850-2828 or send our General Manager

an email at don@theicepond.com
 
---

Additional Opportunities
---
Summer Punch Card
Register Here  
---
---
Adult Hockey League Registrations Open
Due to COVID-19 Restrictions,

All adult leagues have been postponed.
---
Ice Pond Account Cards Available
Pick up an Ice Pond Account card for your family today. 


These cards are great as you can add funds to them and use them at your convenience.
They also make a great gift. 
---
---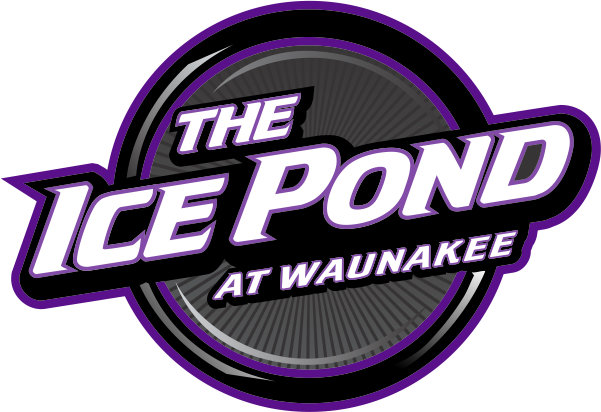 Admission Rates:
 
Open Hockey - $5.00 Must be paid before going on the ice - NO EXCEPTIONS
Session designated for hockey players to work on skills, have fun, and scrimmage. Full equipment is required to play, including an approved helmet. All players under the age of 18 are required to wear approved full facial protection. (Limit to the first 25 paid skaters)
Open Skating
Adult/Students $5.00, Children under 10 $3.00
Public skating session that is open to all ages.
Everyone on the ice must be a paid customer.
Open Freestyle
1hr $11.00, 1.25 hr $13.00, 1.5 hr $15.00, 2hr $19.00
Ice time designed for figure skaters to practice their skills.
Teen Skate- $5.00
*Admission required for building entry
Skating session designed for students to have fun with friends at the rink. Hang out and ice skate
Skate Rental Available - $2.00
Hockey Skates size 8J - Adult 13
Figure Skates size 9J - Adult 12
**Available while supplies last**
---
---
Location & Directions:
The Ice Pond at Waunakee is located at 1110 Prairie View Drive, Waunakee, WI.
One easy way to find us is that we are right down Hogan Road from Carl F. Statz & Sons. Their address is 6101 Hogan Rd, Waunakee, WI.
Call (608) 850-2828 for more information.